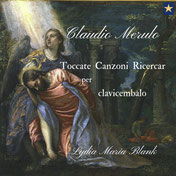 NEU              NEW             Nouveau             NEW              NEU
Claudio Merulo (1533-1604) - Toccate, Canzoni, Ricercar for harpsichord
Claudio Merulo war Organist an San Marco in Venedig und wirkte später am Hof der Farnese in Parma, er war der meist bewunderte Tastenvirtuose Italiens seiner Zeit, und kann zurecht als der eigentliche Erfinder der Toccata gelten. Eine Auswahl seiner schönsten Werke, die erste Merulo-CD in einer Darbietung auf Cembalo.
! Diese CD ist derzeit ausschließlich in digitaler Form zu haben (als Download) !
Claudio Merulo worked as organist at San Marco in Venice and later at the court of the Farnese in Parma, being the most admired italian keyboard virtuoso of his time. He can rightly be considered the actual inventor of the toccata. A selection of his most beautiful works is presented here for the first time on harpsichord.
! This recording is only available as Download !
 Claudio Merulo, organiste à San Marco de Venise et plus tard à la cour des Farnèse à Parme, a été le virtuose le plus admiré de l'époque en Italie. Il peut être considéré comme le vraie inventeur de la toccata. Une sélection de ses plus belles pièces est présenté ici pour la première fois joué au clavecin.
! Ce disque est seulement disponible en forme digitale (Download) !
recorded: Dez. 2015 / Jan. 2016                                          published: Jan. 2018          
Label: stellamaris (SM201801)                                           Booklet: English & Deutsch

1. La Bovia
2. Petite Camusette
3. Toccata settima del 3. tuono (Lib. I)
4. La Gratiosa
5. Ricercar del 4. tuono
6. La Rosa
7. Toccata ottava del 4. tuono (Lib. I)
8. La Zambeccara
9. La Palma
10. Toccata quinta del 7. tuono (Lib. II)
11. Languissans (Crequillon), a 5
12. La Scarampa
13. Toccata prima del 5. tuono (Lib. II)
14. Petit Jacquet
15. La Jolette
16. Toccata nona del 9. tuono (Lib. II)
17. Susanne un giour (Orlando di Lasso), a 5                                                 Total time: 78'34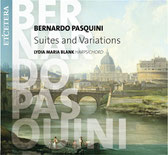 Bernardo Pasquini (1637-1710) - Suites & Variations          

"Anyone with the good fortune to have played or studied under the guidance of the famous Mr. Bernardo Pasquini in Rome, or who has at least heard or seen him play, has been privileged to observe the truest, noblest and most beautiful style of playing and accompanying."
(Francesco Gasparini, L'armonico pratico al cimbalo, Venice, 1708, p. 62)
 recorded: Apr. 2009 / Dec. 2013               
 published: June 2015                                    Label: Etcetera (KTC1532)
1.             Corrente con variatio in A.la mi re

2.-5.       Suite in e, per l'inglese di Scozia

6.            Tastata in g, per il Signor Melani
7.             Partite diverse di Follia in d
8.-10.      Suite in B
11.            Toccata Quinta in e
12.           Variazioni in c, per Francia
13.-15.     Suite in h
16.           Variazioni in C (per Petronilla)
17.            Toccata in B
18.-19.     Suite in g
20.           Passagagli in g
21.-23.     Variazioni d'Invenzione in d.sol re
24.-27.     Suite in a                                                                                            Total time: 79'52
Noel O' Regan (earlymusicreview.com , Febr. 20, 2016; 5 stars in all categories):

"...this is bright sparkling music, played with intelligence and panache and with lots of satisfyingly idiomatic ornaments on repeats. There are also very informative liner notes."
Johan van Veen (Musica Donum Dei) Jan. 2017:
"This is a most interesting disc which includes some brilliant specimens of Pasquini's art. ...(it) is most welcome anyway, also because of the engaging performances by Lydia Maria Blank. ...The way the programme is put together guarantees a maximum of variety.... a highly enjoyable disc which lovers of baroque keyboard music shouldn't miss."
Michael Weill ("Prospero - Forum für alte Musik" (http://www.alte-musik-forum.de), Okt. 2015:
"...Mit dem lieblichen Klang ihres ...Cembalos kann sie die galante Seite hörbar machen... Dazu kommt ihre flexible Phrasierung, mit der sie Melodien und Strukturen sehr schön verdeutlicht, und ihre fast schon überbordende Verzierungslust..., das Ergebnis ist in jeder Hinsicht hervorragend, Instrumentenklang, Repertoire, Darbietung und Aufnahmetechnik spielen alle auf höchstem Niveau."

Jan De Kruijff ("Musicalifeiten" (http://www.quadrevisie.nl/jandekruijff/cd-recensies), September 2015:
"... Ze doet dit met virtuoze, lichte toets en in grote oprechte eenvoud en haar instrument klinkt lieflijk... Deze nieuwe uitgave maakt nieuwsgierig naar een andere cd's van deze klaveciniste...."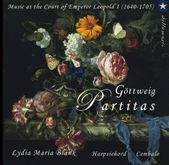 Göttweig Partitas - Music at the court of Emperor Leopold I , Anonymous (Franz Matthias Techelmann ?, ca. 1649-1714
A selection of anonymous harpsichord partitas from a manuscript of the music library in Göttweig. They were probably composed by the imperial organist Franz Mathias Techelmann (c. 1649-1714). The beauty of these pieces evokes the music by Froberger, Pachelbel, Biber and Schmelzer.
World Premiere recording !

recorded: Sept. 2008                  
published: April/Mai 2014                       Label: stellamaris (SM201401)
Partita II in e
Partita VII in D
Partita III in d
Partita I in A
Partita XII in e
Partita XIII in h
Variationi in G (from Partita IV in G)                                                               Total time: 74'14
Johan van Veen (www.musica-dei-donum.org, 10.8.2015):
"These partitas are recorded here for the first time, and that is important from a historical angle. However, they are also of musical value. This is very good music with a character of its own... a very fine performance... Every lover of baroque keyboard music with a curious mind who likes to broaden his horizon should consider this disc."
Michael Weil ("Prospero - Forum für alte Musik" (http://www.alte-musik-forum.de), August 2014:
"Vieles an dieser CD ist erfreulich, nicht nur die wunderschöne Musik, die auf einem ausgezeichneten Instrument ebenso wunderbar gespielt erklingt: Vor allem die Bestätigung, dass es immer noch etwas zu entdecken gibt an Musik vor 1750, .... Lydia Maria Blank spielt auf einem wunderbaren, nach italienischen Vorbildern von Christian Fuchs gebauten Cembalo mit glockigem, feinem Klang, das zeitweise fast schon an ein Virginal erinnert .... Der Klang der Aufnahme ist von schöner Räumlichkeit und gibt trotzdem jedes Detail des Instrumentklangs wieder. Dazu kommt ihr lebendiges Spiel, das differenzierte, an den Tanzmodellen orientierte Tempowahl mit einer persönlichen, aber nie willkürlich wirkenden Kunst der Phrasierung und Agogik verbindet, die flexibel gestaltet, Phrasenstrukturen hervorhebt, aber nie die Klarheit der Form und des Rhythmus beeinträchtigt - ich kann diese Veröffentlichung jedem an Cembalomusik Interessierten wärmstens empfehlen."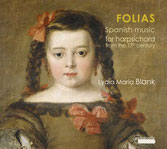 Folias - Spanish music for harpsichord from the 17th century
Francisco Correa de Arauxo (1584-1654),
Pablo Bruna (1611-1679),
José Ximénez (?-1678),
Joan Bautista Cabanilles (1644-1712).
recorded: Sept. 2010                   
published: June 2013                                Label: passacaille (992)
  1.  J. Ximénez:                 Obra de lleno 1.tono sin paso 
  2.  F. Correa de Arauxo:  Tiento de 1. tono (LXII)  
  3.  F. Correa de Arauxo:  Tiento de 5. tono (XX)  
  4.  J.B.J. Cabanilles:        Diferencias de Folias  
  5.  J.B.J. Cabanilles:        Tiento lleno de 4. tono  
  6.  F. Correa de Arauxo:   Dies y seis Glosas sobre el Canto Llano "Guárdame las Vacas" 
  7.  F. Correa de Arauxo:   Tiento de 1. tono, de a cinco (LII) 
  8.  J. Ximénez:                 Folias con 20 diferencias   
  9.  P. Bruna:                     Tiento lleno de 6. tono sobre Ut Re Mi Fa Sol La  
10.  J.B.J. Cabanilles:        Gallardas de 3. tono 
11.  F. Correa de Arauxo:   Tiento pequeno y facil  
12.  J.B.J. Cabanilles:        Tiento lleno de 5. tono (XVIII)                             
                                                                                                                       Total time: 76'58

distinction: 5 de diapason (March / März 2014)
Philippe Ramin (in "Diapason", March / März 2014; complete review in French & German confer / komplette Rezension in Französisch & Deutsch, siehe:  Reviews):
"...La technique regorge de moyens expressifs et mène le clavecin vers une profondeur de sentiment passionnante..."

American Record Guide (July/August 2014):
"...Her technique is very fine, her sense of articulation and timing ideal, and her handling of ornamentation superb."
Eduardo Torrico ("El Arte de la Fuga", Sept. 2013):
"El disco... ayuda a llenar el vacio existente..., la interpretación de Blank está llena de luces y merece realmente la pena."
Johann van Veen (www.musica-dei-donum.org, Mai 2014):
"...The fine quality of the music and the outstanding interpretations by Lydia Maria Blank have resulted in a very compelling disc which should not be missed by any lover of 17th century keyboard music. The harpsichord is a beautiful instrument well suited for this repertoire.... The recording engineer deserves accolades for a very natural recording in which the miking is exactly right."
 Barry Brenesal (Fanfare, 2014):
"... Given her technique, her knowledge of period ornamentation in general and that of the Iberian peninsula in particular, Lydia Maria Blank is as fine a performer in this music as could be hoped for. I admired her previous release of music by Giovanni Maria Trabaci ... for its flexible singing line, and the way she harnessed its harmonic dissonance to expressive ends. That is certainly apparent on this release as well, though the dissonance is less, and the extravagance of gesture, greater... She also possesses an ear for selecting a memorable piece or one with a striking effect ..."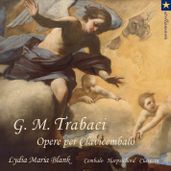 Trabaci - Opere per clavicembalo
Giovanni Maria Trabaci (ca. 1575 - 1647) was (along with Ascanio Mayone) the leading representative of the neapolitan School of keyboard players and composers shortly after 1600. He was an important precursor and contemporary of Girolamo Frescobaldi. This CD contains a selection of pieces from Libro I and II (1603 and 1615).
recorded: Nov.-Dez. 2009                  
published: June 2010                            Label: stellamaris (SM201001)
  1. Gagliarda Prima a 5 detta "La Galante"
  2. Toccata Prima secondo Tono
  3. Canto fermo Secondo del secondo tono
  4. Gagliarda Settima
  5. Ricercar nono tono con tre fughe  
  6. Canzona franzesa Terza  
  7. Gagliarda Quinta Cromatica a 5 detta la Trabacina  
  8. Ricercar quarto tono con tre fughe & suoi Riversi
  9. Capriccio sopra La Fa Sol La
10. Partite sopra Fidele  
11. Gagliarda Quarta a 5 alla Spagnola  
12. Canzona franzesa Settima Cromatica  
13. Toccata Quarta a 5  
14. Ricercar sesto tono Cromatico  
15. Gagliarda Seconda  
16. Io mi son giovinetta  
17. Gagliarda Terza  
18. Toccata Seconda ottavo tono  
19. Partite sopra Rugiero  
20. Canzona franzesa Seconda                                                                                 Total time: 76'56
Complete reviews by:
Stephen Midgley (Amazon, 27.03.2015), and

Sèbastian Holzbauer ("Muse baroque", 2011), (German translation), confer Reviews !

Stephen Midgley (Amazon, 27.03.2015):
"Immediately evident from the very first notes is the tonal beauty of the harpsichord.... Its sound is beautifully captured in the recording and, still more importantly, Ms Blank is clearly a master of baroque keyboard style with an individual, inventive and highly communicative approach throughout the twenty works offered here."
Johan van Veen (www.musica-dei-donum.org, 2011):
"Trabaci's music isn't that well represented on disc, and considering his historical importance and the quality of his music, this release is very welcome. And as the playing and recording are first-rate there is every reason to strongly recommend this production."
Daniel K.S. Walden (Early Music, April 2014):
"... Her sense of timing is impeccable, particularly in her recording of Io mi son giovinetta; the ornaments and diminutions are delightful in the Gagliarda Quinta Cromatica à 5, detta la Trabacina ... she deserves both attention and praise for her work."